Le phénomène des Chiens de pandémie
Allia (gauche) et Anaïs (droite) avec leurs nouvelles chiennes Mookie (une goldendoodle âgée de 11 semaines) et Maïa (berger australien âgée de 5 mois).
Les adolescentes et leurs familles, qui habitent les rues Besserer et Chapel, ont décidée que cette pandémie offrait le moment idéal pour adopter un chiot, puisque tout le monde se trouvait à la maison pour contribuer à l'élevage. Elles ont été très chanceuses de tomber un peu par hasard sur ces petites chiennes – à l'échelle mondiale, la demande est forte! Les adoptions se sont faites en quelques jours mais il n'y a aucun regret. Et les deux familles pratiquent la séparation, pour que le retour éventuel à la vie normale se fasse, on espère, aisément.
—Christine Aubry
---
Residents of Sandy Hill have seen several control signs posted throughout the community this spring. Hopefully they will soon be historic artefacts.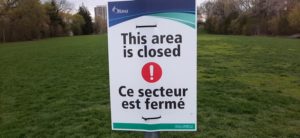 —  Bob Whitelaw
---
Pas encore l'été, mais… Prise le 4 avril dernier au Parc Strathcona.
— Pierre Cantin
---
Socially distanced cyclists and strollers wait for a weekend lunch from the barbecue at the Rideau Sports Centre.
—Paula Kelsall