Soup of Malanga Lila, aka Elephant Ear
Dodi Newman
Photos Dodi Newman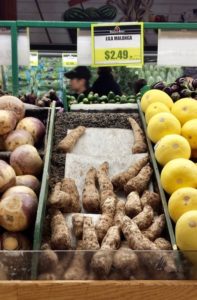 Cooks in Ottawa are so lucky to have a huge variety of food from all over the world—China, Southeast Asia, Central and South America, Europe, the Middle-East, and, of course North America. So much to explore!
Take Malanga Lila roots; grown mostly in the Caribbean, they are the edible rhizome of a plant better known as the decorative garden plant "elephant ear." I saw the roots at Produce Depot on Carling Avenue and was intrigued. After I checked it out with some of the store's employees and on the net I decided to try my luck. This soup is the result. We like it, and I hope you do too.
Serves 4
3/4 lb. medium raw shrimp in the shell
1/2 inch fresh ginger root, coarsely chopped
1 small shallot, peeled coarsely chopped
3 cups water
1 pound Malanga Lila root
2 medium carrots
3-4 scallions
a handful of fresh coriander leaves
3 teaspoons soy sauce
salt and ground black pepper
1/2 teaspoon Sambal Oelek
(available at Produce Depot, Loblaws, Metro, etc., and at Asian grocery stores. Made of crushed, raw chilies, a little vinegar and salt. Could substitute Tabasco sauce.)
Shell the shrimp and remove their heads (if they are still on), reserving the shrimp meat for later.  Put the shells and heads in a 3-quart pan together with the shallot, ginger and water. Boil, covered, for 20 minutes.
Meanwhile, peel the Malanga root, shred 3/4 of it with a box grater, cut the remaining root into 1/2" cubes. Peel the carrots and cut them into 1/8" julienne strips. Cut the shrimp crosswise into 1/2" pieces. Reserve all of these separately.
Slice the scallions into thin diagonal slices. Remove the coarse stems from the coriander and discard. Reserve the leaves.
Drain the shrimp shell broth into a bowl through a sieve, pressing down on the shells for maximum flavour. Discard the solids and pour the broth back into the pot. Add the Malanga, soy sauce, sambal oelek, salt and black pepper, stir.
Bring all to a boil over high heat, turn the heat to medium and cook, covered, for about 15 minutes, stirring now and then to prevent the Malanga from sticking to the pot. The shredded Malanga should have just about disintegrated by then. Add a little water if the soup is too thick. 10 minutes into the cooking time, add the julienned carrots.
Return the soup to a rapid boil, add the shrimp and cook until the shrimp pieces have turned pink. Do not overcook. Serve immediately, garnished with scallion slices and coriander leaves.