News from Viscount Alexander School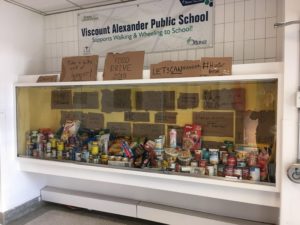 Michael Barnes
Junior Girls Bordenball tournament champions
Last December the Viscount Alexander Junior Girls Bordenball Team walked over to the Lees Campus of the University of Ottawa for the Tier 3 Girls Bordenball tournament
In their first four games the girls beat York, Centennial, R.E. Wilson and Lady Evelyn schools. In the semi-finals they were victorious again against Queen Elizabeth School. In the championship game they once again faced Lady Evelyn, winning 18-12. The girls deservedly came home with first place ribbons! Throughout the day the girls demonstrated teamwork and great sportsmanship. Coaches Joyce Contant and Maritsa Vlahos were very proud of their efforts on and off the court. Team members are: Hala, Ola, Tasnia, Lilly, Mehrangez, Savannah, Nadia, Hana, Sofia, Emma, Hope, Rebekah, Alina, Asra, Amira, Rikieda, Hassatou, and Sara. Congratulations!
Boys Bordenball silver medalists
Congratulations to our Boys Bordenball Team for competing with honour and distinction. Our boys demonstrated their skill and dedication, making it all the way to the finals and then placing 2nd. They played with great sportsmanship to the end. Head Coach Ms. Fulford was very proud to have such a great group of boys represent our school so well throughout the day. Team members are Eero, Justin, Rayan, Nati, Yisroel, Murat, Preejot, Bradley, Sebastian, Yusuf, Alejandro, Austin, Andrew, Tarek, Ismaila, Martin, Hamse, Omar, and Yahya. Well done!
Food drive
Viscount Alexander Public School held a holiday non-perishable food drive to support needy families in our community. Mrs. Fulford's grade 5⁄6 class headed the drive again. The whole school donated dry goods over a couple of weeks. It was a fantastic success with the school filling 13 boxes for the Ottawa Food Bank. Donations included pasta, canned vegetables and fruits, cereal, peanut butter, jam, canned soup, stew, chili, and hygiene products—soap, shampoo, toothpaste. Thank you to Mrs. Fulford and her class as well as to all those who donated!
Swim to Survive
Our grade three students have enjoyed participating in the Swim to Survive program, run through the Lifesaving Society, which was developed in response to the reduction of swim instruction for elementary school children during school hours. As well, many children are not provided with the opportunity for swimming lessons out of school hours. The Lifesaving Society and the OCDSB believe that Swim to Survive is an important first step to being safe around water.
Skating at the arena
Every year, Viscount students from Grade 1 to 6 have the opportunity to skate at the local Sandy Hill arena every Tuesday and Thursday. At the end of the season in March there is a Skate-a-thon that raises money for various school programs such as Scientist in the Schools, school laptops, musical instruments and sports equipment. The school is currently in need of hockey/skating helmets and any donations of these as well as skates are always gratefully appreciated.
Kindergarten registration
If you have a child born in 2015, you can register your child now for school beginning in September 2019. To register you can either come to the school at 55 Mann Ave. or go to www.ocdsb.ca and click on the "How do I?" tab to find "Registering." If you are coming to register at the school please bring your child's birth certificate or passport and proof of address. If you would like further information please phone the school office for assistance at 613-239-2213.