Cumberland St. to receive new trees and shrubs
Marilyn Whitaker
On Cumberland Street, the Combined Sewage Storage Tunnel (CSST) project is nearing completion. In the block between Stewart Street on the north and Wilbrod Street / Séraphin-Marion Private to the south, a number of changes are planned for this spring, including wider sidewalks, accessibility features, new cycle tracks, and narrowed roadway. These changes are welcome, especially as this area has a lot of pedestrian traffic, including many students going to and from the University of Ottawa.
This part of Cumberland is a fairly exposed area with a university parking lot to the west and little tree cover. After bricks and asphalt were laid around two trees on the east side in 2015, people noticed these trees seemed to be losing leaves and dying. Nearby, a huge tree was removed as a result of an ice storm two winters ago.
In June 2019, a discussion of greening opportunities was held at an on-site walk-about involving staff from Councillor Mathieu Fleury's office, City of Ottawa Forestry, CSST project staff and consultants, and Action Sandy Hill representatives. The space required for the new sidewalk and cycle track meant that the two dying trees will be removed. Following some exchanges, two beds of shrubs and ornamental grasses will be put in front of 495 and 497 Cumberland and six trees will be planted—near, but not on Cumberland.
The new trees will be two varieties of maples plus elm hybrids with excellent resistance to Dutch elm disease and elm leaf beetle. With time and care, most could become good canopy trees.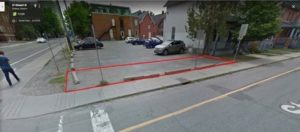 On the west side of Cumberland, there was some thought that some asphalt on the municipal right-of-way between the sidewalk and university parking spaces could be removed to allow some plantings. This would be like the de-paving along Somerset East which the City, the Sandy Hill Tree Group and other volunteers initiated in 2016. Due to concerns about overhead wires, underground services and uncertainty about university plans for development in the area, de-paving there is unlikely to proceed when other changes for sidewalks and cycling take place this spring. De-paving will occur when two parking spaces beside Stewart are replaced with a bed for two elms. Further west along Stewart, some more de-paving will take place with the planting of three maples beside the sidewalk.
Those interested in activities to green Sandy Hill can take part in the Sandy Hill Tree Group (sandyhilltreegroup@gmail.com) and help care for the new trees and plants around Cumberland and Stewart.